Sundials display the time as time progresses throughout the day in a most beautiful way. In the Hessian town of Birkenau, there are over 200 of such noiseless time measuring devices—an unparalleled number of sundials like no other German village.
You can easily overlook them. They do their duty inconspicuously and quietly. Driving along Hauptstraße in Birkenau, the first sundial you may notice is that on house number 101 at the major crossroads. It is perfectly circular and has a golden sun at its heart. Its rays are chiselled into the wall of the building. Around it, there is an azure blue ribbon with zodiac signs on it. The writing below in old-style font says: "God created time. He never said anything about haste," which is meant to be a reminder as much as an invitation.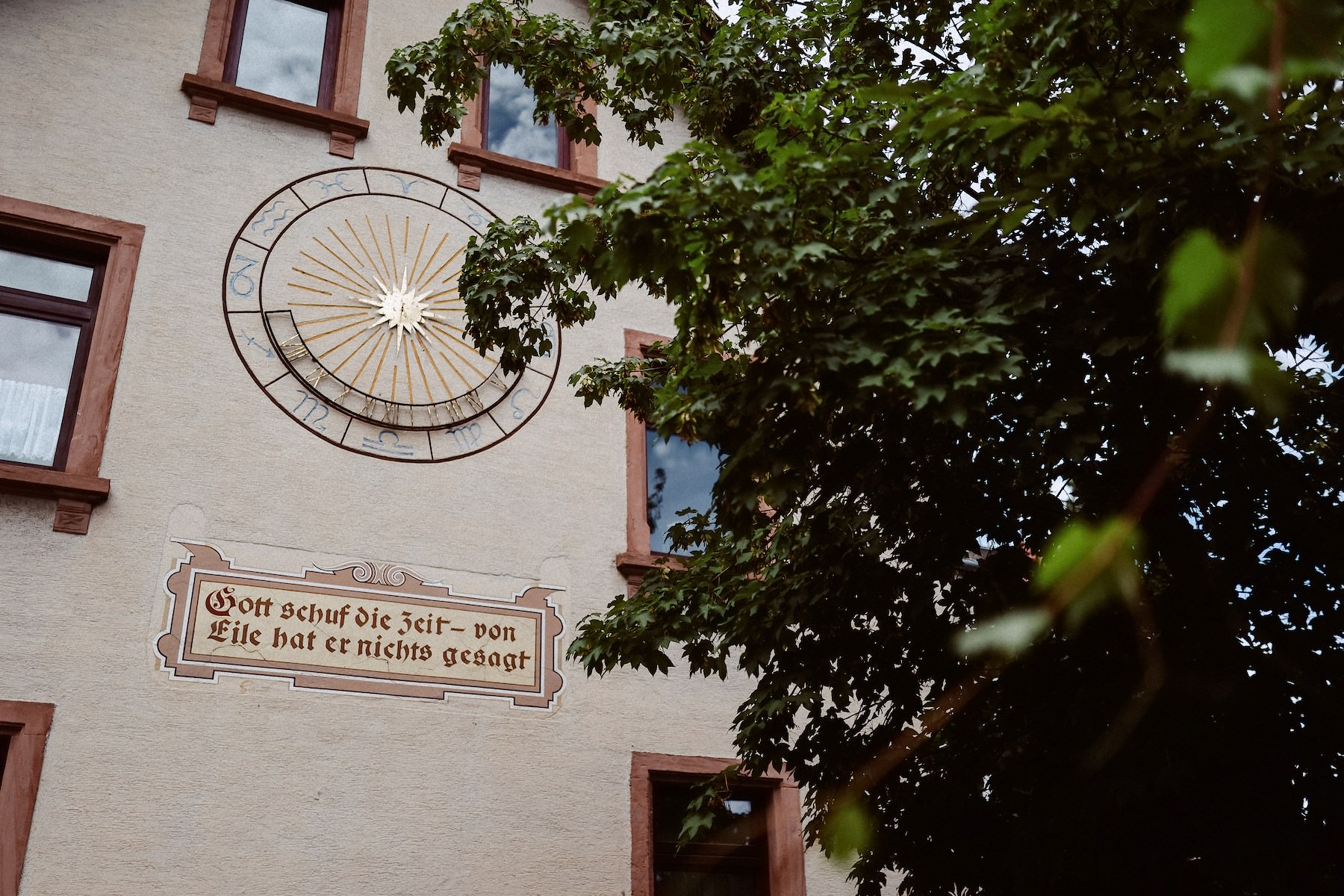 It is an invitation to exit the town's hectic through-traffic and take time to immerse into Birkenau's streets and alleys and discover them everywhere: sundials all throughout the place—in parks and gardens, on transformer stations and natural stones, and, above all, on the walls of buildings. A couple of hundred, 205 to be exact. This is at least the number of sundials that Monika Lübker has on her list for this afternoon. "Actually, there were many more of them," says the chair of the local sundial club. Many old specimens were removed, when houses were renovated and insulated, the paint grew pale or new owners simply didn't want them in their gardens. Despite of these losses, Birkenau has been brightened up by an increasing number of sundials, year after year. Only Bremen is said to have more sundials than Birkenau—never mind the fact that Bremen's population is much larger by a few hundred thousands of inhabitants.
It all began in 1943, Monika tells the story. That year, state architect Otto Seile, who had lived and worked in Darmstadt for many years, settled in Birkenau with the intention to enjoy his years of retirement here in the Odenwald. He decorated the south-facing wall of his house in Dornweg road with a sundial. From a golden sun at its centre, the hand's shadow was projected onto a cast-iron ribbon with numbers. Otto was fascinated by these silent time measuring devices and by the underlying system. His enthusiasm spread: Shortly afterwards, neighbours asked him to design a sundial for their house as well.