Hardly anyone in Germany nowadaysknows who the Bing brothers were. Yet their Nuremberg based company once produced toys for children all over the world. Uwe Groll has collected over 2,000 pieces from their range—from miniature roller coasters to elephantpull toys. Displayed in the Freinsheim Toy Museum, the exhibits create a world of metal, furryand childly dreams.
Uwe Groll's favourite piece stands in a display case on the ground floor: Mr. Propellor. Looking rather stiff, almost inconspicuous and rather serious, Mr. Propellor peers through the glass pane studying the visitors. He shares his shelf with a dachshund on wheels and a handful of dolls. "I don't dare to tell you how much he cost," says the founder of the Freinsheim Toy Museum, as he takes out the scrawny little fellow in the red uniform and turns the square key that sticks in Mr. Propellor's chest a few times. Whoosh! The messenger boy on roller skates dashes across the floor. A wind-up mechanism and the propeller on his back hurl him forward. Uwe manages to grab the precious piece before it collides with a chair—just in time.
This toy used to cost 5.50 marks when the Bing company carried it in its catalogue in 1910. When Uwe bought it about 100 years later, he paid 7,500 euros. "You have to be a bit crazy to do this," he admits. He and his wife Marion opened the toy museum in the Palatinate town of Freinsheim in 2011. Full of nooks and crannies, the small building is used both as an exhibition area for Uwe's private collection of historical toys and for a cosy café that Marion runs. It is located in the middle of Freinsheim's beautiful old town with its numerous baroque buildings. The well-preserved town wall runs adjacent to the museum.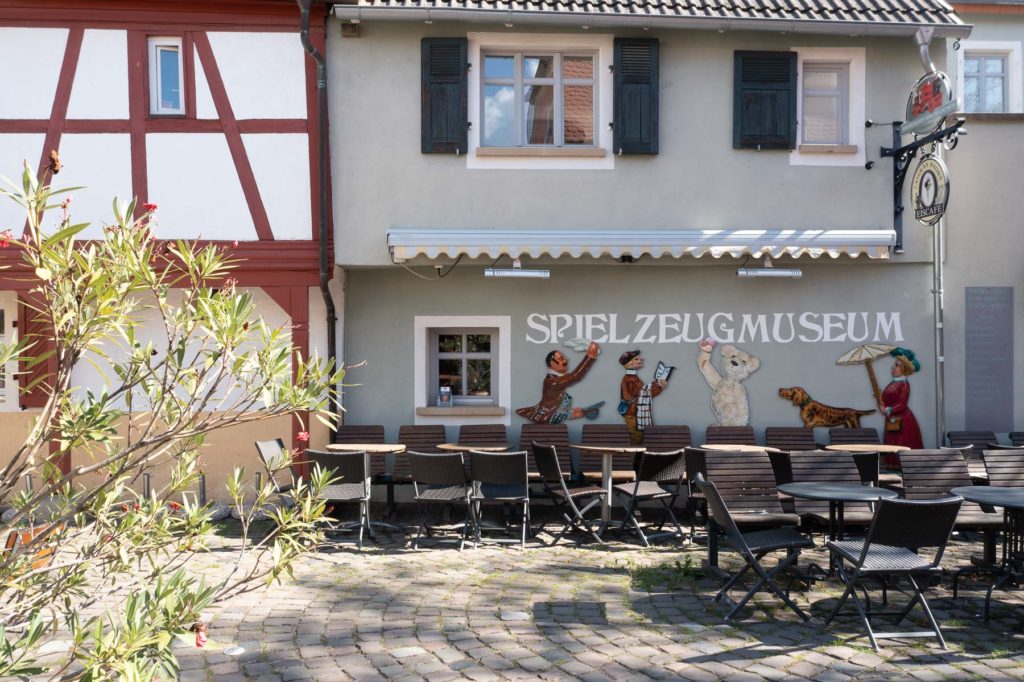 Uwe's day job is as an environmental consultant. The museum is a hobby he pursues at weekends. Spread over three floors, the museum is crowded with soft toys, dolls, boxes of stone building blocks, board games, books and all kinds of toys made of tin—from pedal-cars to toy trains and miniature mines. In the café on the ground floor, the Groll's serve ice cream sundaes and cakes. A teddy bear sits on a ledge and locomotives adorn the shelves even down here.