Homeland museums are dull? Not necessarily, as a visit to the Langbein Museum in Hirschhorn in the south of Hesse proves. You can go on a journey following in the footsteps of a passionate collector who appreciated both bizarre and ordinary things—a journey through chambers packed with curiosities that are full of stories. Stories about Hirschhorn and its people, about local wildlife and about a famous visitor: Mark Twain.
The Langbein Museum of local history welcomes its visitors with a hallway that is the first proof of its uniqueness: It shines in a vibrant red colour. The creaking wooden staircase leads to the second floor of the former Hirschhorn forester's house. The exhibits waiting to be discovered by visitors are already listed on glass panes in the hallway. There is a large number of them. A very large number. And they are listed without discernible order.
The first chamber you enter appears like a muddle as well. Drawings, pictures and deer antlers hang on grass-green walls. Display cases unveil seashells and tools. A mounted pheasant observes you from above. Aloisia Sauer, president of the museum association, smiles and lets her gaze wander. "I have been part of the association since 2018 and have been in these rooms innumerable times. However, I discover something new every time I come here." Only if you take the time to take a second look, you'll recognize the ties between the various things, and with each of them you'll get a more detailed picture of the person who gathered them.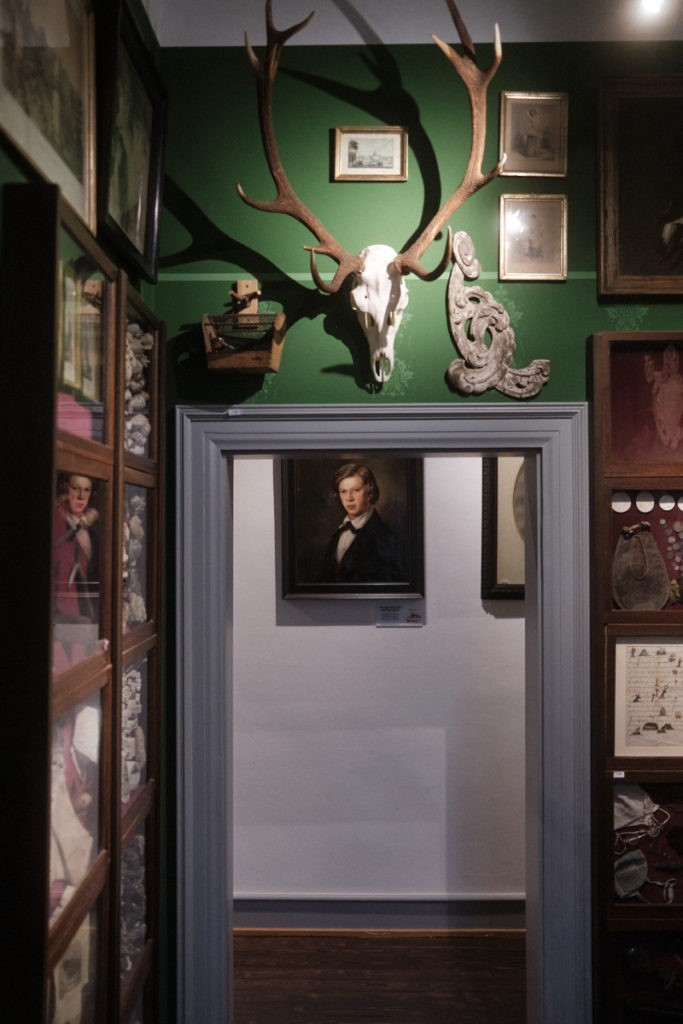 Carl Langbein, born in Hirschhorn in 1816, was an unusual person and an enthusiastic collector. He appreciated things regardless of their monetary value. For him, a beautifully crafted trouser button was as valuable as a painting or piece of furniture. As long as it had a story to tell. About the skilfulness of its creator, the rarity value of the material used or the person wearing the trousers that it used to be attached to. "A warm participant of all beautiful and religious things, of the art and scientific community," as he characterized himself in a letter. Carl Langbein didn't spend his time only collecting. He also made drawings, wrote poetry and made music, produced furniture and preserved animals by means of taxidermy. "Today, you'd probably call him a highly talented person," Aloisia is convinced.