Staying overnight in the middle of the forest, between pines and beeches, under a treetop canopy composed of a thousand leaves? This is theoretically not permitted in Germany. In 2009, however, the first trekking grounds in the Palatinate Forest were created and have offered hikers a unique outdoor experience—thanks to the efforts of Uta Holz from Südliche Weinstraße district and Sigfried Tiator, a committed citizen.
Uta Holz can recall her first night in the Palatinate Forest in great detail. "It took place here in the Eußerthal region," says the secretary of the Südliche Weinstraße e. V. association. "It was in 2009, shortly after the trekking grounds were opened:" Her children, then three and five years old, were very tired as a result of the hike to the site and they crawled into the tent early. "Then, a thunderstorm came up" and breaking camp was not an option, because the children were fast asleep. So the family stayed. "I found it quite scary—but my children slept through it, totally unimpressed by the thunderstorm. The next day, they were well rested and explored the forest." It was the first of what should become a great number of nights in the Palatinate Forest.
Today, two families have pitched their tents at the Eußerthal site. They are from Mannheim and Kaiserslautern. Noah and Tammi, eleven and six, run around excitedly between the campfire site and the rocks at the edge of the ground, while their parents are juggling with the tent poles. Mika and Selma, five and three years old, stand at the fire and hold sticks into it in a highly concentrated manner. It is an adventure for the entire family. Seeming far away from civilization it is yet close enough to feel safe throughout the experience.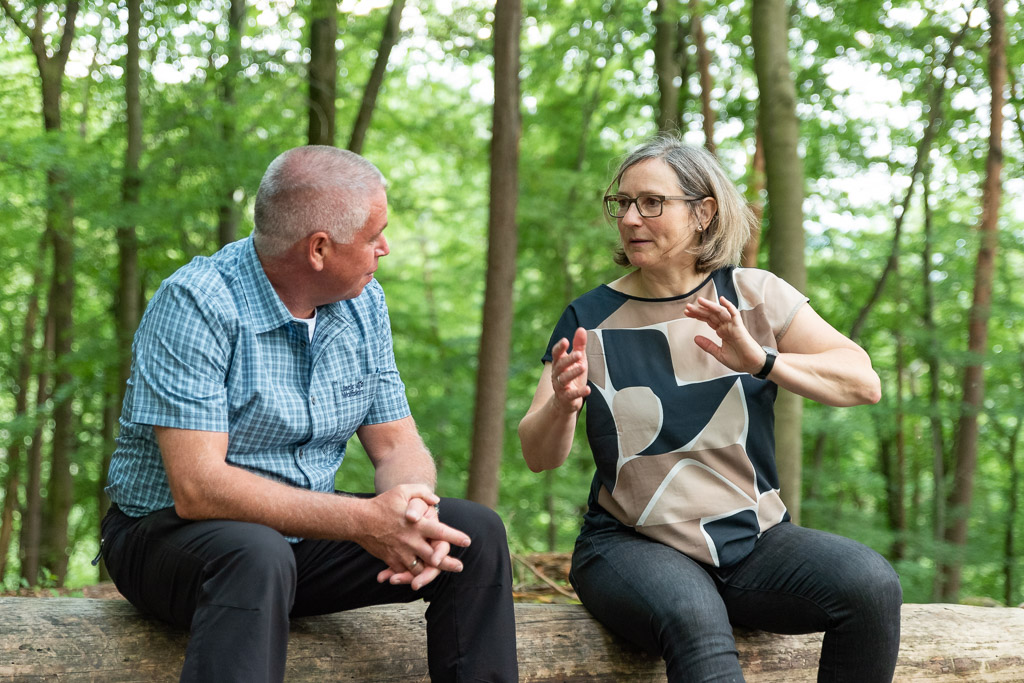 In 2007, the Landesforsten Rheinland-Pfalz (Rhineland-Palatinate state forest authorities) contacted Uta to jointly establish trekking grounds in the Palatinate Forest-North Vosges Biosphere Reserve. "They definitely approached the right person," says the professional of the tourist industry and laughs. She enjoys being outdoors, loves hiking and has always a little bit envied Scandinavia, where everybody is permitted to stay overnight in the wilderness—as long as it doesn't exceed one night. In densely populated and highly regulated Germany, this hasn't been the case so far. "I thought the idea is great and wanted to turn it into reality straight away." However, it took two years until the first overnight stay in the forest was possible. "A big effort was required to communicate the idea and convince the institutions involved." Local councils were worried about forests being used for partying and hunters about hikers scaring off the wild animals.