At Paletti, the Mannheim circus for children and teenagers, you can learn feats of skill—as well as courage and self-confidence. Culture manager Tilo Bender has performed quite a feat of skill in his own right—setting up this extraordinary association.
Carla stands on the trapeze and swings. Lotte flips backwards from the same, now her head hangs below her training partner her knees hooked around the swing. A thick matt on the ground secures the six-year-old girl. The next position was named "Vogelnest" (bird's nest) by coach Tilo Bender: Simultaneously, the young performers place their feet just above their hands on the tightrope. It looks very elegant. And courageous. Not frightened? "Nope! Not even a bit."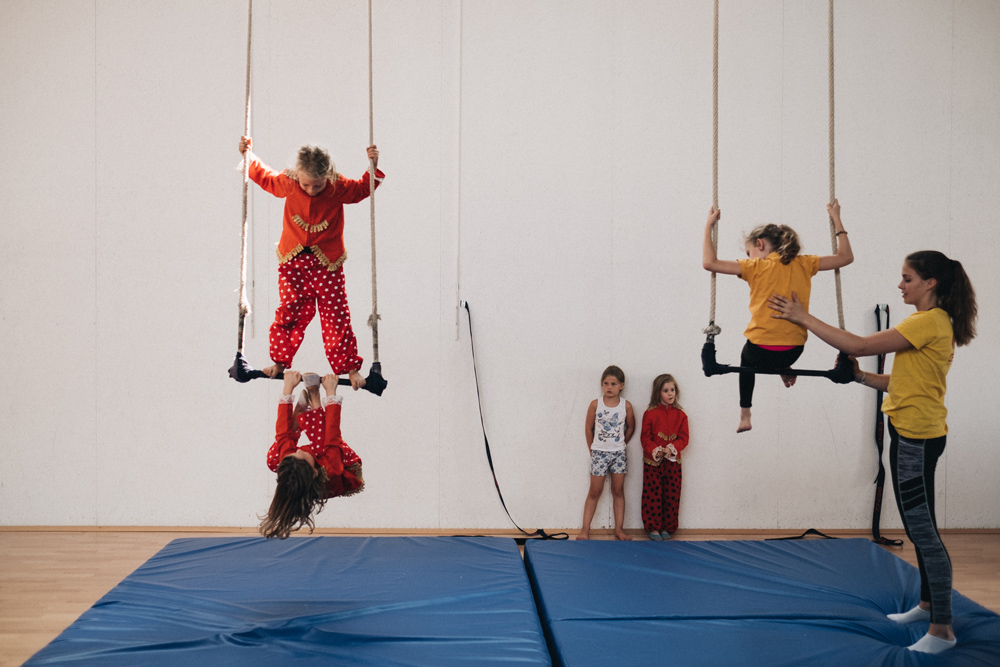 Tilo could have worked in a lawyer's office. But after law studies, he chose the circus tent over the courtroom. He founded Paletti circus for children and teenagers in Mannheim some 20 years ago. Today the association has almost 1,000 members, half of which are practising young or adolescent members. Classes are regularly booked up, waiting lists as well. 42-year-old Tilo is this vibrant club's secretary and jurist, as well as circus teacher and professional trainer. He studied cultural management, teaches at universities in Mannheim and Heidelberg and chairs the Landesarbeitsgemeinschaft Zirkuskünste (state working-group for circus arts).
As a child, Tilo didn't go to the circus more often than other children. But when he was twelve, he learned to juggle. "I enjoy being persistent," he says. "The happiness you feel when the penny finally drops is great." So he started to practise feats of skill more and more frequently and performed at children's birthdays until the occasions became increasingly big.