These days, you can take a virtual tour of Speyer Cathedral online. But it is even more impressive to see the majestic construction in person. Friederike C. Walter and Bastian Hoffmann organise guided tours and cultural events and show why the cathedral is so much more than a UNESCO World Heritage site and the biggest preserved Romanesque church in the world: It is also a place of retreat for people who love silence.
The spires of the highest steeples of the biggest preserved Romanesque church in the world disappear in the fog on this cold winter day. A street musician blows the trumpet softly and quietly – in the cathedral garden a man wearing a Santa costume tries to fight the icy temperatures by playing the accordion. With the musicians at your back you can view the impressive scenery of Speyer Cathedral – burial place of emperors.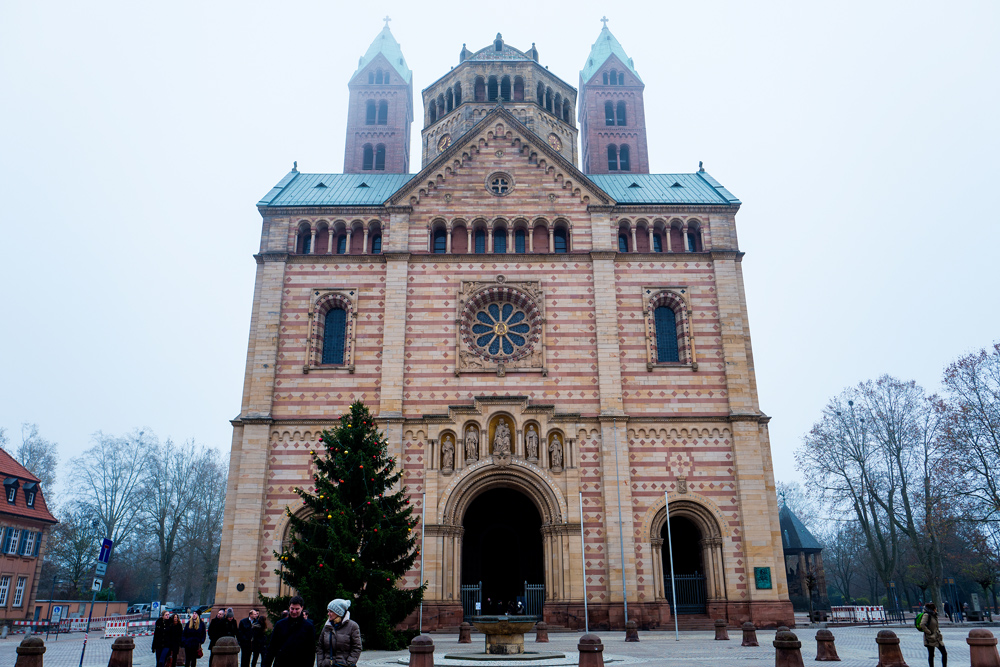 The striking sandstone facade reveals the exciting, often wild history of Speyer Cathedral going back to 1030, the year the foundation stone was laid. Looking closer you can perceive different construction phases. You then see that the colour of the stones changes constantly, that their size and evenness varies. And yet, in order to fully understand, you need someone – someone who knows and is able to tell the stories of all these stones.
Someone like Friederike C. Walter, the 39-year-old art historian and head of the cultural management department of the cathedral chapter. She organizes guided tours, provides information material and is the contact person for visitors. And she gets very enthusiastic when it comes to the cathedral itself: its complexity, its "impressive dimensions, its theological, (art) historical and architectural importance."
In the central nave, some visitors sit on modest wooden pews, unified by silence, each, however, deep in thought. Your eyes begin slowly to wander, and then go up. It is a full 33 metres to the ceiling. A single person can suddenly feel quite small underneath it. The flames of the votive candles flicker amidst the draft coming in from the side door. The faint yellow light, however, creates a warm atmosphere in a cold and awe-inspiring construction, which made Speyer one of the most important cities of the Holy Roman Empire in the Middle Ages.